---
June 28th 2017
The Barbie Fashion Model Collection takes a look back at timeless couture and adds a twist to create the New Classics Collection. A cocktail dress has never been so enchantingly romantic. Blush-colored organza and tulle ruffles gracefully drape like rose petals against a rich taffeta lining. Luxurious golden embroidery with rhinestone and sequin embellishments lavishly adorns her elegant bodice. This BFMC collection features a poseable Silkstone body for endless posing possibilities. Now in Stock!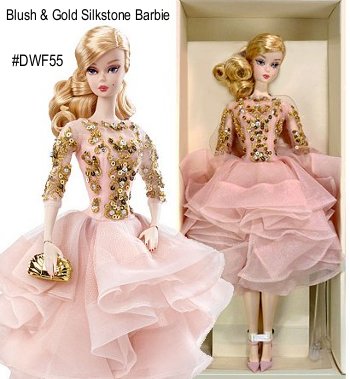 Cinderella, Wedding Day, Stepmother & Fairy Godmother Four Doll Bundle Set
Cinderella Royal Ball, Cinderella Wedding Day, Stepmother Lady Tremaine & Fairy Godmother 4 Doll Set (limited quantities available).....
Read More
IN STOCK NOW
ON SALE
$99.00 + shipping
---
Check out the Scratch & Dent Sale Items. If you are not worried about the box, there may be a dent, torn cardboard, scratched plastic, etc. They're perfect for OOAK designers or deboxers.
CLICK HERE
---
For your information: Doll Genie uses cookies within many features on our site. You may need to check your browser settings to be sure that you are accepting cookies to use all features. If you use Apple Safari as a browser, CLICK HERE for information on how to check your settings. The most common problem for Safari users is that their cookies need to be cleared and/or your browser could be set to private and needs to be changed to accept cookies. If you need assistance please call Customer Support 352-503-7574 Mon - Fri / 9am-6pm EST - or - e-mail anytime support@dollgenie.com
---
---